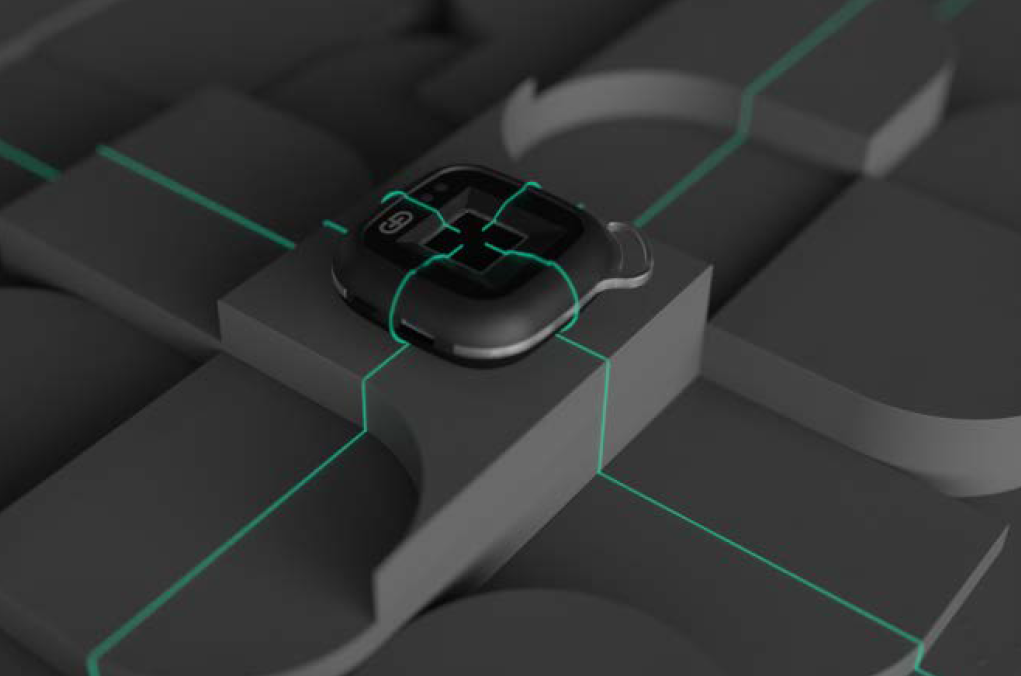 Giesecke + Devrient (G+D) is a world-renowned company and a global leader in security technology protecting physical and digital payments, the connectivity of people and machines, the identity of people and objects, as well as digital infrastructures and confidential data. More about the company can be found at the end of the article.
A great product from G+D is the StarSign Key Fob, a full-featured biometric identity and authentication device. It allows users the one touch ability for access, approvals, and payments. The key fob allows all use cases and applications to be integrated securely and seamlessly without an increase in costs. It uses a reference design from G+D, in which an SLE78 security chip is paired with a flexible DA14683 system-on-chip (SoC). The software on this design was developed in-house by G+D and uses SEGGER's emUSB-Device as the foundation of USB communication.
For many applications (for example logical workstation access, cloud access to secure applications in the office network, one touch secure document signatures and approvals, encrypting and decrypting documents for secure and convenient transmission and many others), a connection from the StarSign Key Fob to the PC via USB cable is the best solution, and this is where SEGGER's emUSB-Device comes into play.
The reason for this choice is obvious: emUSB-Device, as part of SEGGER's all-in-one embedded operating system emPower OS, is a high performance USB device software specifically designed for embedded systems. The software is written in ANSI C and runs on any platform. It provides an easy-to-use API and documentation, is compliant with USB v1.1, USB v2.0 and USB v3.0 and supports all speeds including Full (12 Mb / s), High (480 Mb / s) and SuperSpeed (5 GB / s).
emUSB-Device enables easy integration of USB functionality into an embedded system. Standard classes are provided that enable the device to behave as a standard USB peripheral without the time-consuming effort required to write a device driver for mainstream operating systems, and dispenses with driver certification. Custom devices that don't fit the standard class model can use SEGGER's bulk USB driver with pre-certified operating system driver(s) to implement whatever is needed. Multiple classes may be combined in any way to form a composite device with multiple interfaces that can be used simultaneously. G+D's application used SEGGER's standard CCID USB Class.
The Chip Card Interface Device (CCID) Class enables creation of any CCID-compatible USB device, including smart card readers (either contact or contactless) or authentication tokens (Dongles).
In this very resource- and space-limited application of the StarSign Key Fob, the small memory footprint also comes into play (only 1.2 KB ROM are used in an average configuration), and during the development phase according to G+D as well the direct support from SEGGER's USB product developers was much appreciated.
Conclusion
The StarSign Key Fob from Giesecke + Devrient is a stylish biometric authentication token that meets the highest security requirements and is also suitable as an alternative to the smartphone for numerous applications. In addition to wireless connectivity, e.g. for access systems, there are also various PC-based use cases where connection via USB is the first choice. With SEGGER's emUSB-Device CCID class driver, G+D has opted for a stable, resource-saving, and flexible solution that supports all other USB classes in addition to CCID — no matter which application the customer is looking for and which chip it is based on, emUSB-Device supports them all.
For more information about SEGGER's emUSB-Device, please click here: https://www.segger.com/products/connectivity/emusb-device/
For more information about StarSign Key Fob, please click here: https://www.gi-de.com/en/identities/enterprise-security/hardware-based-authentication/starsign-key-fob?C=58&cHash=076fbaf9e998cc1656d57f132d21af37
Appendix: About StarSign Key Fob Security
All StarSign Key Fob hosts all security credentials and applications in a Common Criteria EAL 6+ certified smart card chip. It supports hardware-based cryptographic operations at the highest level with RSA up to 4096 bits, ECDSA up to 512 bit and AES up to 256 bit. It offers two-factor authentication for physical and logical access ultimately in one device and tremendously improves the security for software, applications, and sites, all while maintaining convenience and simplicity for users. The encryption of the StarSign Key Fob solution is strong enough to secure financial transactions, too, complying with security legislation such as the EU's PSD2 requirements.
About Giesecke + Devrient
Giesecke+Devrient (G+D) is a global security technology group headquartered in Munich. As partner to organizations with highest demands, G+D engineers trust and secures essential values with its solutions. The company's innovative technology protects physical and digital payments, the connectivity of people and machines, the identity of people and objects, as well as digital infrastructures and confidential data.
G+D was founded in 1852. In the fiscal year 2020, the company generated a turnover of 2.31 billion euros with around 11,500 employees. G+D is represented by 74 subsidiaries and joint ventures in 32 countries. Further information: www.gi-de.com.